I have been tweeting now for about a year and a half. It is amazing how Twitter has grown in that time, now I can tweet stuff to the news station, correspond with my favorite Martha Stewart Radio Show – Everyday Food, and keep abreast of anything and everything people are doing. I even get cleaning, blogging, and weight-loss help over twitter!
Be sure to check out more Tweeps at
Supahmommy's
and link up!
DIRECTIONS:
To play along and increase your twitter traffic do the following:
1. Click on my twitter Icon above. Follow me first of all!
2. MAKE A BLOG POST – just like this one. In fact, copy-and-paste these directions.
3. Grab the YO Tweeps Twaffic Exchange Button. Put him in your post.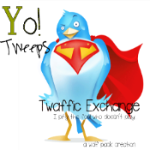 5. Put a twitter icon / link on your blog post like I did. It should directly link to your TWITTER PROFILE.
6. Now link up your post here!
7. Visit some other #YOTweeps linkers on the list.
8. Follow them if you choose and shout out to them on twitter that you are following so they can instantly follow you if they're on. (Follow their blog as well if you're interested.)
Example: @supahmommy #yotweeps I'm following!
9. If someone follows you JUST reciprocate. It's that easy.
Subscribe to my blog here
Twitter me – I'm Kimmiekinkins
Join my Facebook Fan Page
__________________________________________________