We got this ottoman with our original sofa set. When my oldest son was born we got a new living room set so we decided to recover the ottoman. It really was pretty easy. That was four years ago – the wear and tear of two little boys got to it and there were holes torn into the ottoman. Actually it started as holes and they slowly ripped the actual fabric off. Time to tackle the ottoman recovering…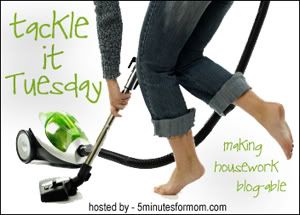 We recently bought a large throw rug to disguise our ugly carpet and all the juice and food stains it has endured. Since this carpet went with new colors (light blue and brown) compared to what we did have (mauve, light brown and mustard) the new ottoman fabric had to really pop. Also, since the carpet had a design in it I was a little nervous about using too bold of a pattern for the fabric. So, I found this
My husband took off the old fabric and some of the hardware. (of course, before I got a picture) The ottoman top opens up and we keep blankets inside. You can also flip the ottoman top over and there is a table top that you can use.
Here's a collaboration of our work to finish the ottoman.
and this is the final ottoman in our room.
Now how to add one of
Nester's mistreatments
to make my curtains even better! Do you have any ideas- be sure to leave a comment!